History Of The First Fan Club
Zahir Chinoy became an Elvis fan when he heard Elvis' songs on the radio in the 1950s. Then he saw Elvis' first movie "Love Me Tender." By the time "Loving You" and "Jailhouse Rock" came out, Zahir was a solid fan. Elvis' records only became available in India after 1966, so before that time they could only hear Elvis on the radio and would ask friends and relatives to get Elvis records from abroad.
The First Elvis Presley Fan Club of India began with Rajiv Jacobi; and after Zahir Chinoy took over as the president; he and his family worked very hard to promote Elvis, his records, his movies and to preserve his memory throughout the entire country of India. This is not an easy job, but somehow Zahir has succeeded and continues to succeed with this enormous task. The Elvis Presley Fan Club of India originally started in 1970 with a small amount of Elvis fans. In 1984, the club took off when founding member Rajiv Jacobi gave a talk on Elvis at a local Rotary Club in Bombay. Rajiv's talk was reported in the local press and that created an interest in the club.
Incidentally Mr. Chinoy now has the most Elvis memorabilia in Asia– and celebrities like socialite Shobhaa De stop by from time to time to his home in Pune to see the rare collection and profess their love for Elvis.



The Current Fan Club
The mantle has been taken on by a younger generation. At the age of 17, Radio Jockey Fali R. Singara got the idea and iniative to start a small club in Mumbai in 1997 through his programme on All India Radio to commerate Elvis's 20th Death Anniversary – and when in 1999 it developed in a full fledged Fan Club–since then it's been no looking back.
With the help of Mr. Zahir Chinoy – Fali & fans from all over India (ranging from industry professionals to college students) uphold the fundamentals of the club -which is to spread awareness of Elvis Presley, not only as an entertainer, but as a sincere and generous human being. The Elvis fans are of all ages, from sweet ten & eleven-year-old girls who are super enthusiastic and make all their friends listen to Elvis instead of Britney Spears or the other modern rubbish to retired Electronics engineer Mr. Mahesh Punwani from Colaba, who was lucky enough to see Elvis live in concert in the early 70's. And yes it is true, Mr. Punwani confirms, that at the end of an Elvis concert, everyone would break down and cry.
Then there are grandfathers like Mr. Jungoo Siganporia from Kandiwalli who religiously writes in every week to Fali's radio shows for him to play an Elvis number to play for his wife and grand daughter. College kids also love Elvis music – GLC student Hormuzdyar Desai goes to college with Elvis in his walkman everday and listens to him during class as well!



The Clubs Charter
The overall goal of the Elvis Presley Fan Club of India is to keep Elvis' memory alive and to help anyone who wants to learn about Elvis, expand their Elvis collection or even just hear some Elvis songs or watch an Elvis movie. The club currently charges no membership fees to join...all that's required is a love for anything Elvis!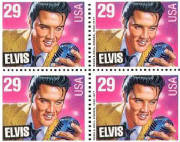 Fali R. Singara is the Current Founder & Organiser of this Club