HERE'S A CLOSE UP OF THE FAMOUS 'TIGER MAN' SUIT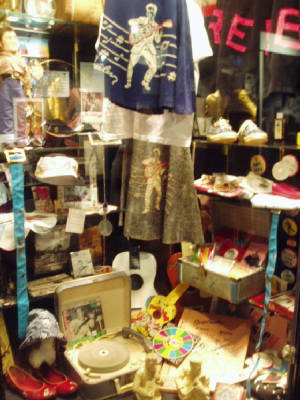 NEXT STOP-ONE OF MANY MUSUEMS AT GRACELAND! AS YOU CAN SEE LOTS OF MEMORABILIA ON DISPLAY...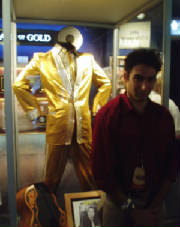 THIS SUIT NEEDS NO INTRODUCTION - FOR IF YOU'RE AN ELVIS FAN YOU KNOW THAT FALI IS STANDING BESIDE...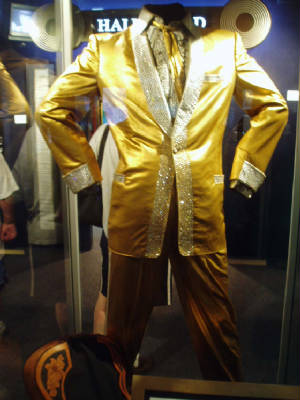 ...ELVIS'S FAMOUS GOLD LAME SUIT! (IT'S BEEN ON A NUMBER OF POSTERS & ALBUM COVERS)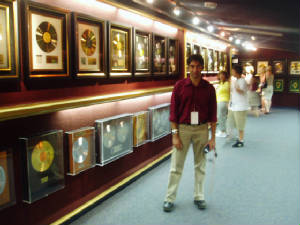 THE HALL OF GOLD- ONLY GOLD RECORDS IN THIS ROOM!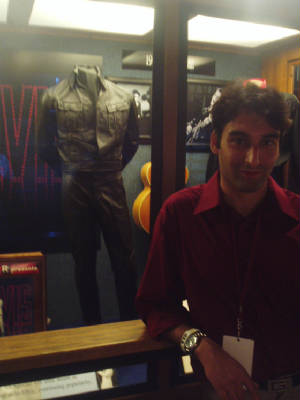 HERE'S THAT FAMOUS BLACK LEATHER SUIT...
...FROM THE NBC 68' TV SPECIAL!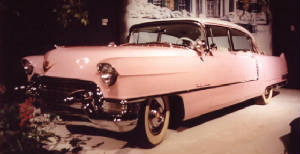 HERE'S A CLOSE UP OF THE FAMOUS PINK CADILLAC IN ELVIS'S CAR MUSUEM...(IT'S SAID THAT THIS WAS HIS FAV CAR!)
YOU HAVE TO GO THROUGH THE ELVIS FAN DETECTOR TO GET TO THE LISA MARIE...
AND HERE SHE IS...ELVIS'S PRIDE & JOY OF AN AEROPLANE!